'How do dating apps make money?'
If you are Googling this, then you must have wondered how top dating apps like Tinder, Bumble, or OkCupid make money?
How are these dating app giants making millions and billions in revenue year by year?
To keep your dating app active and sustainable for longer, it is essential for you to think about the unique monetization model to apply to your mobile app.
Due to COVID, many businesses got affected and some businesses even failed to sustain themselves. But, the dating industry has not been affected by it at all. Rather, within 2020, the dating app revenue reached up to $602 million and is estimated to touch the mark of $755 million by 2024 in the USA only.
Being a top dating app development company in the USA, and having experience in developing more than 14 custom dating app solutions, we have decided to mention how these dating giants like Tinder and Bumble generate money. Use these monetization strategies to scale your dating app.
Let us discuss each monetization strategy in detail.
Statistics of Online Dating Apps and Industry
A drastic transformation is happening in the dating app industry. Since 2012, the online dating app culture has flourished. After the launch of the Tinder app, swiping right culture is increasingly getting popular.
Membership dating websites have started to provide exclusive features after a user purchases a plan. This is considered one of the best strategies to generate a continuous revenue stream.
By the year 2024, the casual dating segment is expected to reach 259.3 million, according to eServices dating services.
The valuation of the dating app industry in 2017 was $6400 million which is about to increase by $9202 million by 2025. Another interesting fact is, the number of online active users interested in buying subscriptions in the US is 14.48% which is predicted to increase to 15% by 2025.
As per PR Newswire, by 2025, the online dating industry market size is projected to reach about $3.592 billion by 2025. This information is sufficient to understand the true potential of online dating services. Let us understand how these online dating apps work and how these dating services make money.
How Leading Dating Apps Make Money?
It is essential to understand how to make a dating app before understanding their revenue model. The combined revenue of Tinder, Bumble, and OkCupid is certainly huge. We have broken down the monetization strategy of each dating app and discussed it below.
How Tinder Makes Money? | Tinder Business Model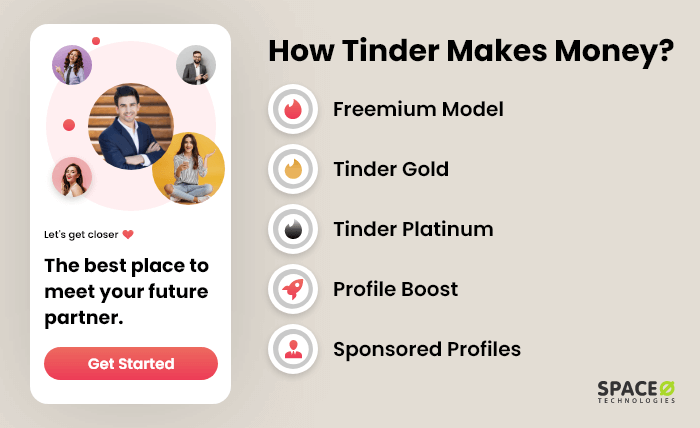 The primary source of income for Tinder is through subscription plans.
You can consider it as a free dating app since some of its basic features like swiping and getting matches are completely free.
Tinder's revenue from 2015 to 2020 is consistently increasing. Check in the below screenshot.
Do you know in which continents Tinder generates the most revenue and downloads?
Facts about Tinder:
Tinder is available in more than 190 countries. In the 3rd quarter of 2020, there is a total of 6.6 million Tinder paid subscribers. Tinder is not a separate entity, it is owned by the dating company Match Group which separated from its current parent company IAC in 2020.
5 Different Ways Tinder Makes Money
The Tinder app is free for us and still managed to sustain itself for years. So, it is essential to understand the monetization strategy of Tinder. As of 2020, the total revenue of Tinder has reached up to 1.4 billion U.S. dollars from the year 2019. Tinder has integrated in-app purchases to boost its revenue model as well.
| Features | Explanation |
| --- | --- |
| See only verified members | Get the opportunity to connect with verified Tinder users |
| Display Stickers on your profile | Get the vaccinated stickers displayed on your profile |
| Recommendations based on your profile | Choose your connections according to your vibe. For example, date night, binge-watchers, gamers, social causes, brunch time |
| Swipe Night: Weekend | See the episodes and make a choice whenever asked. Based on the choices, you will get match recommendations. Just like in the movie, Black Mirror: Bandersnatch |
We have listed 5 different ways of how Tinder generates revenue.
Freemium Model (Tinder Plus)

Tinder Plus costs $9.99/month. You might have experienced after swiping right a certain number of times, it will ask you to upgrade your app to Tinder plus. Being one of the Tinder users, the freemium model implies unlocking specific features for which the client needs to pay after using it for a certain time. Have you ever been in that situation? Yes? This model is called the freemium model. You will get listed features in Tinder Plus.
Match, chat, meet
Unlimited likes
Unlimited rewinds
Passport to any location
Hide advertisements
There is one more paid plan, which is called Tinder Gold. This plan includes all the features of Tinder Plus, it includes the new 'Likes You' feature. This feature will permit you to see how many likes you have from others in your profile.
Tinder Gold
If you have a Tinder Plus plan, then just by paying an extra amount you can easily upgrade it to Tinder Gold. Since the company is still testing the Tinder Gold price, you can directly pay a small fee and upgrade to Tinder Gold.
The top features offered in Tinder Gold are mentioned below.
5 super likes a week
1 free boost a month
See who likes you
New top picks every day
Tinder Platinum
You will have these features in the Tinder Platinum plan.
Message before matching,
Prioritized likes,
Priority messaging,
See who likes you
Boost
There are other top dating apps like Tinder, which have also included the boost feature in their dating app. The boost feature does exactly that by adding your profile to the top for 30 minutes. Boosting your profile will bring about 10x profile views and 4x engagement to your profile.
Sponsored Profiles
You might have noticed that some of the companies are partnering up with Tinder to show their profile in the form of sponsored content. Tinder smartly shows the sponsored posts to their users and earns revenue from that. Now, the interesting thing is as soon as the user swipes right on the sponsored profile, they get a pre-drafted message from the sponsor. The registered user can even connect with that sponsor as well.
Planning to Develop a Tinder-Like Dating App?
Want to develop an app similar to Tinder? Want to know how much it does to develop the dating app?
How Bumble Makes Money? | Bumble Business Model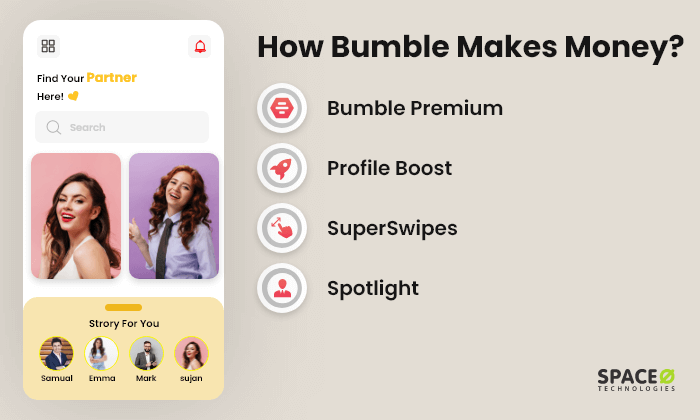 Bumble, being one of the top dating market players, works on the freemium business model. This membership model requires users to sign up for free. A large part of Bumble's revenue comes from subscription offerings and in-app purchases.
You may consider the example of Spotify, Google, and YouTube as freemium programs. If we talk about the revenue, in the 4th quarter of 2021, Bumble's revenue was between $208 million – $211 million.
But how does the Bumble app become so huge? What was its core proposition? The answer to your question is, Bumble app only allows female users to make the first move after a heterosexual match. Interesting thing is, the match will only last for 24 hours if the woman does not respond. Now, you just have 24 hours to lock in your date.
This feature was a game-changer for Bumble and made all the difference. Even to make the app more interesting, Bumble provides Spotlight and SuperSwiping to make users aware that you are interested in them.
Do you know how many monthly downloads Bumble acquired in January 2021?
Facts about Bumble:
Bumble has acquired more than 1.8 million monthly downloads from Google Play Store and Apple Store. The majority of the download comes from Latin and North America.
We have discussed the 2 different ways to know the monetization strategy of Bumble.
4 Different Ways Bumble Makes Money
Bumble's majority of the revenue is generated from 4 features. Other niche-based top LGBT dating apps are also implementing the same strategies to convert free users into paying users.
Bumble Premium

By paying $12.99 on a weekly basis you can avail Bumble premium plan. Premium Plan of Bumble includes the following features. After purchasing a premium plan you are eligible to use all of these features. We have even explained each feature with their explanation.

| Features | Explanation |
| --- | --- |
| Unlimited like | Get unlimited swipes |
| Beeline | See who has already expressed an interest in you. |
| Advanced filters | Apply unlimited filtrations |
| Incognito mode | See people who have swiped right on you. |
| Travel mode | Change your location to match with people in other countries |
| 5 SuperSwipes a week | Make someone aware that you admire them |
| 1 Spotlight a week | For 30 minutes, Spotlight puts you ahead of the other profiles |
| Unlimited extends | Extend as many matches as you like |
| Unlimited rematch | Another chance to connect with expired matches |
| Unlimited backtrack | If you swiped left by accident, get the option to re-swipe |

Boost

Bumble has another plan which is called Bumble Boost, in this plan Bumble allows you to use one spotlight, five weekly superswipes, unlimited swipes for $14.9/month (price may vary). You can easily boost your features using the Bumble app.

SuperSwipes

Bumble provides a SuperSwipe feature to let another user know that you are highly interested in them. You need to purchase coins to get a SuperSwipe feature. One Bumble will cost you one SuperSwipe feature. The cost of one Bumble coin is $1.99.

Spotlight

Do you want to be seen on the top? Then Spotlight is the feature for you. It will help to keep your profile on the top. Hence, you will get more views on your Bumble profile. To get a Spotlight, you need two coins. Same as Tinder, Bumble also has similar plans which are Bumble Boost and Bumble Premium.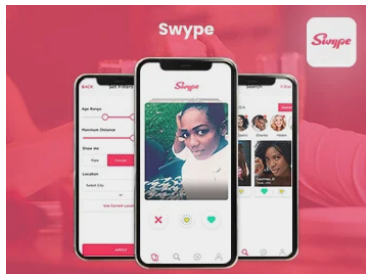 Swype is specially developed for users for Ghana, Africa. This app is successfully bringing people together using photo and matching filter features.
How Badoo Makes Money? | Badoo Business Model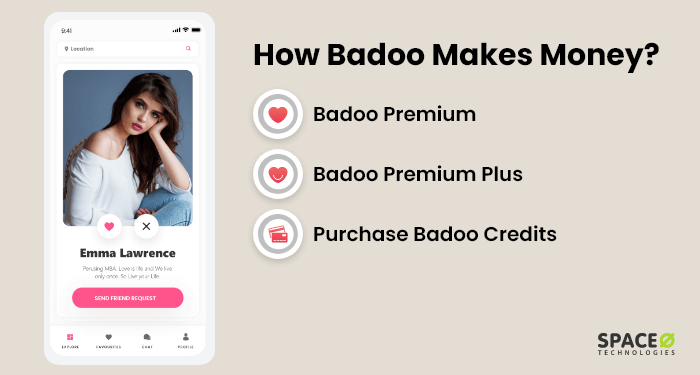 After Tinder, we can consider Badoo as its front runner. Until now, Badoo has successfully bagged 2.6 million downloads. The most downloads from Europe, the Middle East, and Africa as of January 2021. You might not know this but Badoo started even before Tinder, and Bumble.
Initially, the app was used to offer games, social search, and quiz apps. Soon after 2013, the app slowly transitioned from a casual dating app.
Most of the dating websites like Match or eHarmony provide premium subscriptions for the users to avail premium features. Badoo allows the purchase of premium features by using Badoo credits only. You need to spend a specific amount of Badoo credits to purchase the features you want.
The idea is here to integrate in-app purchases to increase the revenue. That is exactly what Badoo did with its monetization strategy.
Rise up – Show your profile higher
Extra shows – Make your profile appear multiple times
Digital gifts – Send gifts with messages and purchase digital sticker
Facts about Badoo:
The monthly downloads of Badoo are 3.9 million. Additionally, the valuation of the Badoo has touched $10 billion in 2021.
3 Different Ways Badoo Makes Money
You should know that most of Badoo's revenue gets generated from users and investors and from the premium features. However, Badoo isn't dependent on paid advertisement only. The ads should not be considered as the majority portion of the revenue.
Badoo Premium

Badoo premium is another example you can follow to monetize an online dating app by letting users use the exclusive dating app features such as the following.
Search for the singles who have added you as your favorite
Check who has liked your profile, even know your match
Get seven times more likely to get a reply and increase your chances of getting a reply
Check multiple profiles without revealing your identity
Get a second chance by revisiting your profile – grow your chances of getting a match
The cost of Badoo Premium starts from $9.99/month. If you want to subscribe for a lifetime then it will only cost you $59.99.
Badoo Premium Plus
In Badoo premium plus, you can chat with anyone. To boost your profile visibility, you will get 1 extra show every week. When you discover that you like someone, you can send them a crush and get almost a 9x chance to match with your crush. Using the read receipts feature, you can know instantly whether they have read your messages or not.
Purchase Badoo Credits
Badoo credits allow you to purchase a specific feature using the credit points. If you are short of credit points, you can easily top up your credits and spend the points to keep using the features.
| Features | Explanation |
| --- | --- |
| Get to the top | Spend 50 credits to move to the top in people nearby |
| Get more matches | By spending 100 credits you will be seen by more people in encounters |
| Get more visits | You will need 100 credits to have your profile shown to more people |
| Get more messages | You will need 100 credits to let people know you are online and ready to chat. |
You can top up your Badoo credits automatically when the balance falls below 200 credits.
Our dating app development proficiency shows in our work. Our team of dating app development specialists has developed more than 14 custom and native dating apps in Android and iOS. If you are looking to develop an app like Tinder, contact our specialized team of developers right away. You may check out one of our best dating app projects.
Want to Make Money from Your Dating App?
Our team of dating app developers has built more than 14 online dating apps successfully. Do you want to build yours?
How to Make Money Through a Dating App?
Throughout this blog, we have learned about how different dating app giants make money, how they convert target audience and existing users into paid users, and what business models they have followed.
Now, we will discuss 4 ways to make money from your dating app with examples to help you understand each model clearly. Shall we get started?
Subscription-based Business Model

The subscription model is considered the primary revenue generation model in the dating app monetization strategy. You add options like monthly, quarterly, and yearly subscription models for the users. By categorizing your app properly, you will have the chance to offer features such as unlimited swipes, access to premium profiles.

Example of Subscription-based Business Model:

Tinder and Bumble app provide monthly subscriptions to buy premium features.

Affiliate Marketing

You are partnering with affiliate marketing website owners rather than a product or a service company. To collaborate with other websites, it is essential for you to develop a compelling user base to sell ads of other companies. All things considered, you will earn by affiliating with different apps and websites via the affiliate network.

Example of Affiliate Marketing:

Websites like CougarLife dating app, Match, EliteSingles, Cupid Media, People Media provide affiliate programs with the highest commission.

In-App Purchases

Aside from simple emoticons, users enjoy sending varieties of emojis. Unique GIFs and emojis have become popular in the dating world. It is the easiest way to make money with such apps.

Example of In-App Purchases:

Tinder is free to use. But, users won't be able to use additional features like unlimited swiping, unable to superlike unlimited profiles. To use all these features users need to purchase a Tinder premium for a month.

In-App Advertisements

Advertising on a dating app can also be a very profitable way to monetize your dating app services. Most online dating apps allow you to use banners, native advertisements, video ads, in your dating app to monetize the app.

Tinder tracks user behavior on the basis of location, users' likes and dislikes to show them relevant advertisements. The in-app advertisement is implemented to increase app engagement.

Example of In-App Advertisements:

Domino's and Ex-Machina (Hollywood movie) have started in-app advertisements campaigns on Tinder to engage thousands of users. Due to Tinder's large user base, the campaign resulted in 700 matches and 20,000 social reach.
Refer to these FAQs and unlock all the necessary information you need to know about how dating apps make money.
FAQs About How Do Dating Apps Make Money
Do dating apps make a lot of money?
Dating application revenue is significantly increasing year by year.
In the year 2017, the dating app average revenue was $2.05 billion, which drastically increased by $3.08 billion in 2020.
By targeting the right audience and adding monetization strategies, it is possible for you to earn a significant amount of revenue from your dating app.
What is the most successful dating app model?
If we target the most downloaded dating app Tinder, they have mainly 2 types of users, free users, and paid users. Apart from that, the approach of Tinder in terms of dating is straightforward. The criteria of matching profiles on Tinder depends on location, looks, and availability.
Ready to Make Money from Your Dating App?
We have discussed how leading dating apps like Tinder, Bumble and OkCupid earn money. Along with that, you have also learned why the dating app industry is thriving by generating billions of dollars in ROI. You should know that all of these apps are following the freemium model to generate revenue.
We have discussed different monetization strategies and the business model most dating apps follow. You may even get inspired by dating app portals.
If you are planning to develop a dating app from scratch, discuss your ideas with us. So far, our dating app developers have built more than 14 dating apps. Let us help you to build a dating app by integrating USP and turning your dating app idea into a live mobile app.