MOV files tend to be larger than MP4, not all players will play them back for you, and sometimes when you need to upload a video online, a platform would only accept a limited number of formats that doesn't always include MOV. So if your camera or phone are recording videos in MOV but you need to convert them into MP4, this is the post for yo
MOV vs MP4, what's the difference?
First, let's see how these file formats differ.
MOV is a file extension that's used with QuickTime file format. It's a container for video and was developed by Apple. MOV files are usually larger in size and have less compression, providing higher quality of the video.
MP4 is also a file extension used to signify a video file stored in this container file format. MP4 is a more widely used format that does not require QuickTime to play it back. MP4 files tend to have higher compression, smaller size, and lower image quality.
How to convert MOV to MP4 without losing quality
If you are wondering how to change MOV to MP4 at the end of your file's name, it's not as simple as renaming your file. You'll actually need a converter to change your file type. But don't worry, we have a step-by-step guide for you right below.
Open Setapp and type in "convert video" or "permute" in the search bar.
Find Permute in the search results and click Install.
Once the app is installed, click Open and go through the initialization screens.
Drag and drop the video file (or multiple files) that you want to convert onto the app.

Adjust the conversion parameters, if needed, and click the play icon under your file to convert.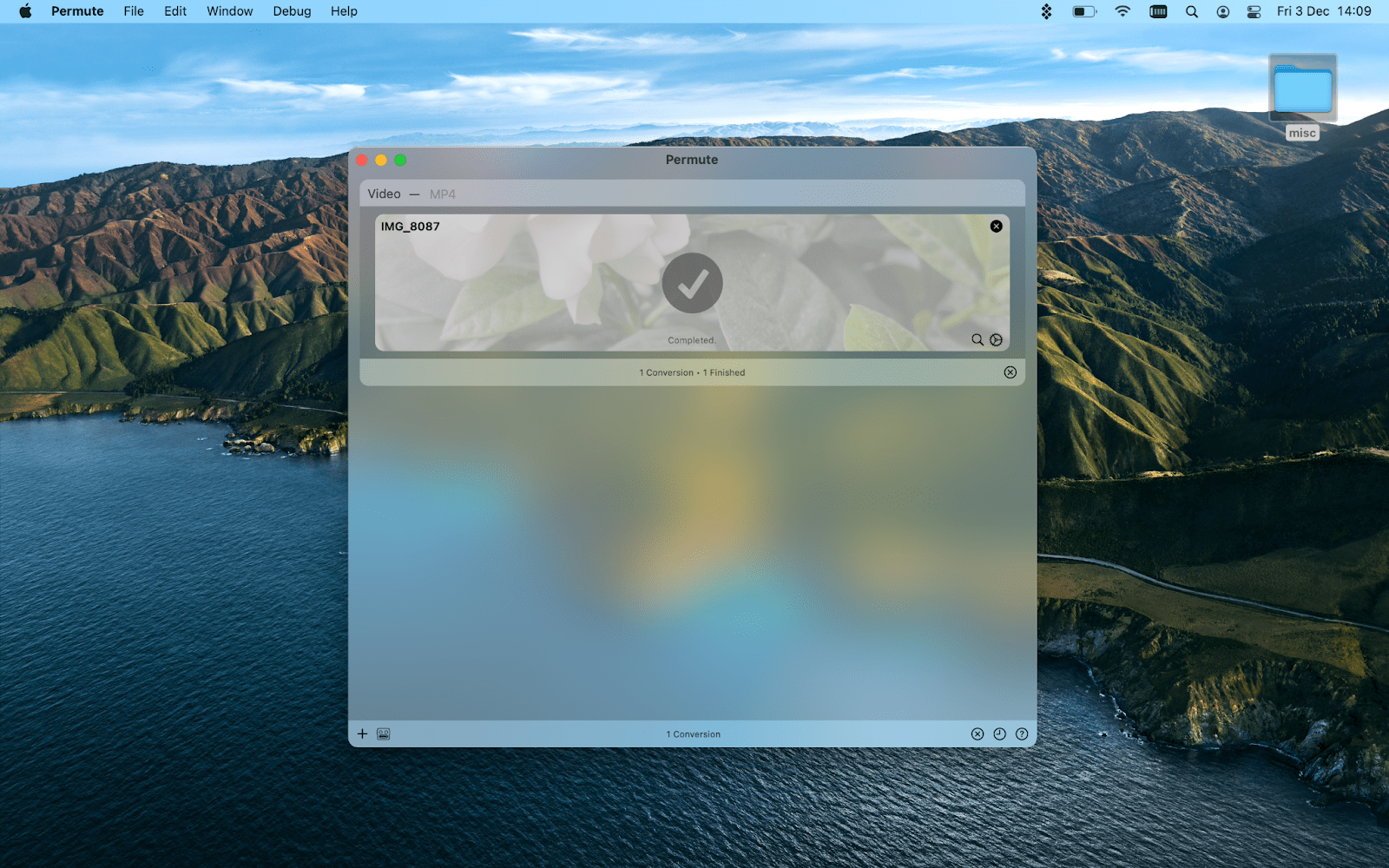 Your file will be saved in the same location as the original MOV video.
So if you want to save your QuickTime file as MP4, Permute converter is one of the best solutions that we can recommend.
And if you are wondering how to play your MP4 or MOV file, you can either use your Mac's built-in QuickTime Player or third-party tools like Elmedia Player: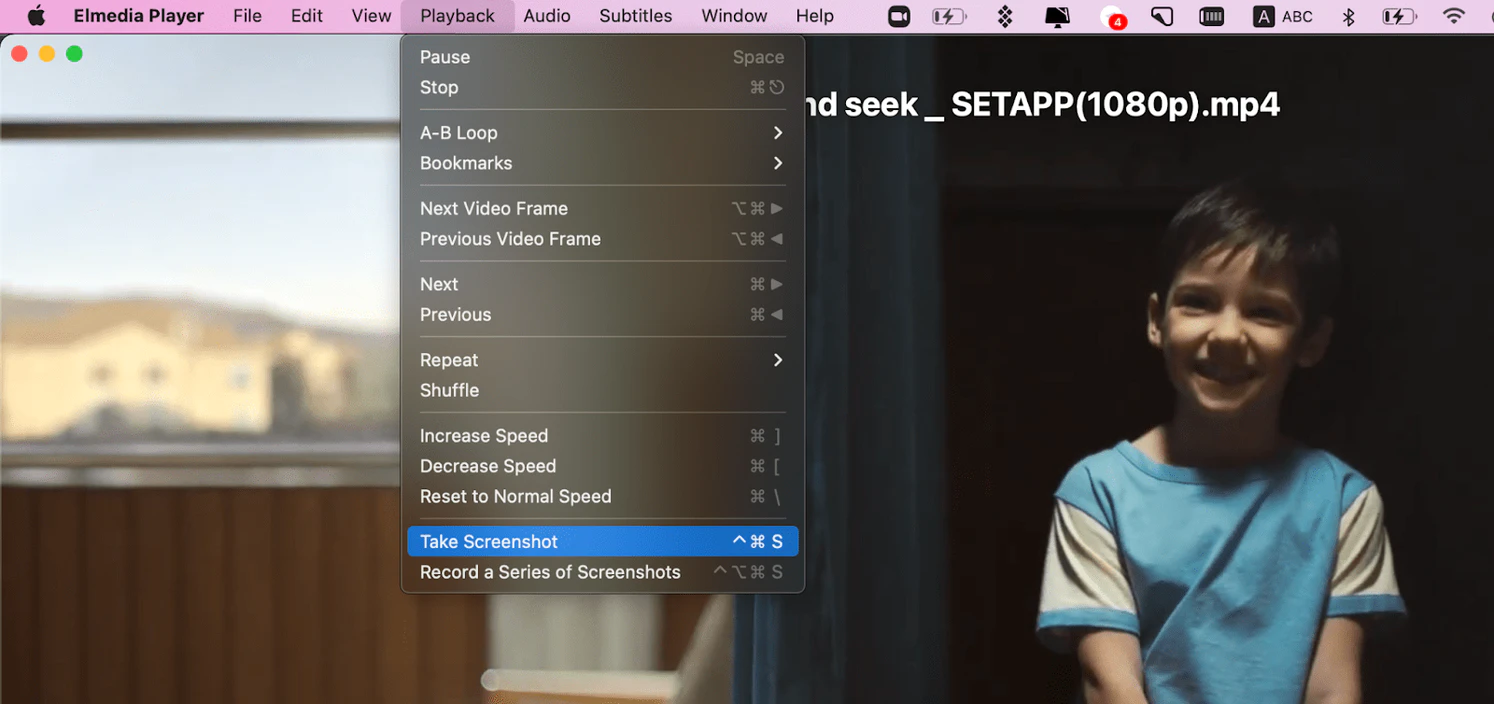 Elmedia Player is an advanced video player that has picture-in-picture mode and can help you tune your video (and even audio in it) in just a few clicks and watch the adjusted version.
Can QuickTime convert MOV to MP4?
While QuickTime has an Export As tool, MP4 is missing from the options: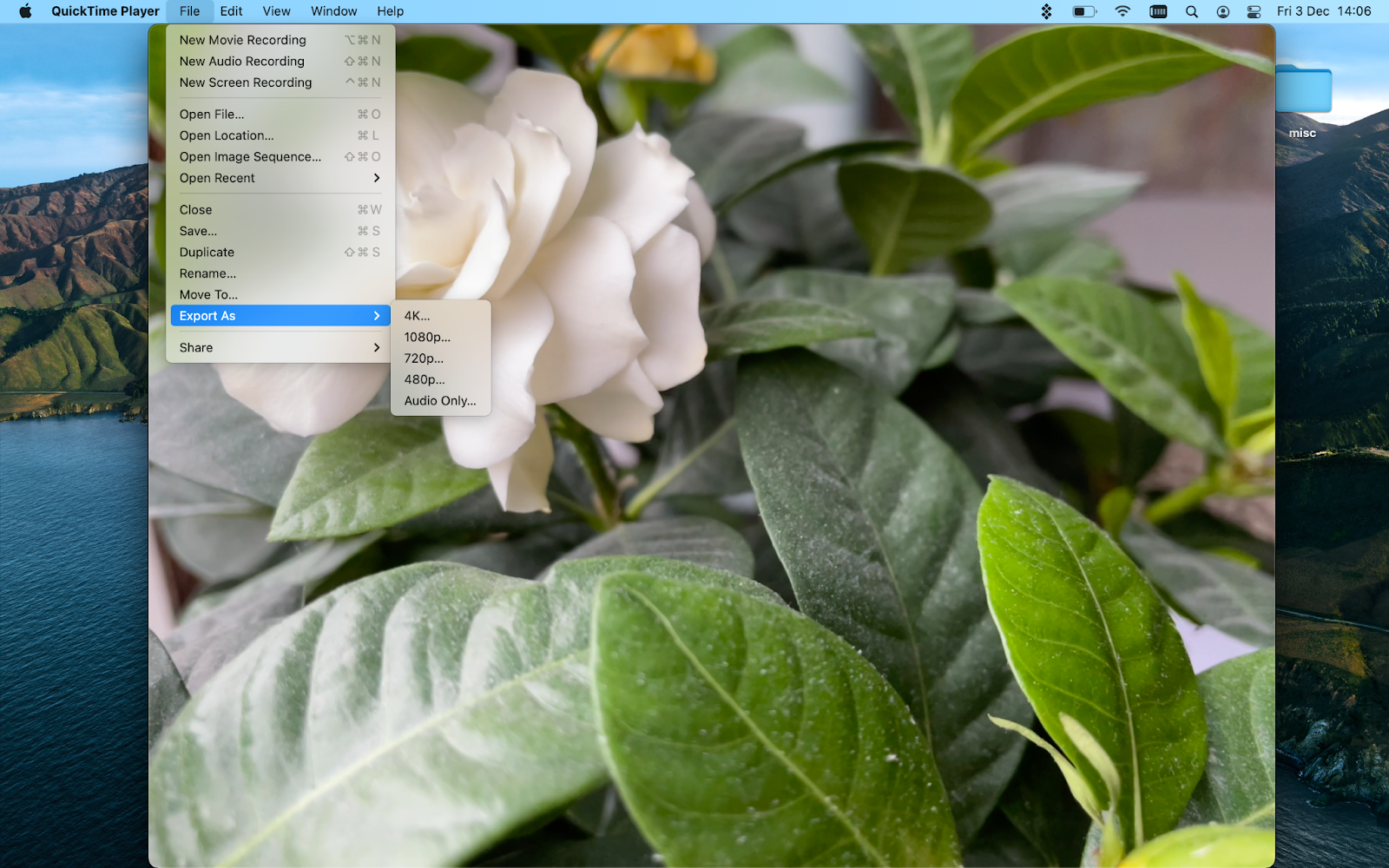 As you can see, the player allows you to export your video in a different resolution or extract your audio.
Don't worry though, you can use another tool on your Mac to convert MOV to MP4.
Convert on Mac using iMovie
You can convert your MOV to MP4 on a Mac using iMovie. This is an Apple-made app for more advanced video editing.
If you look around the app, you might not be able to intuitively find a way to convert, as just like with QuickTime, iMovie only has the export option: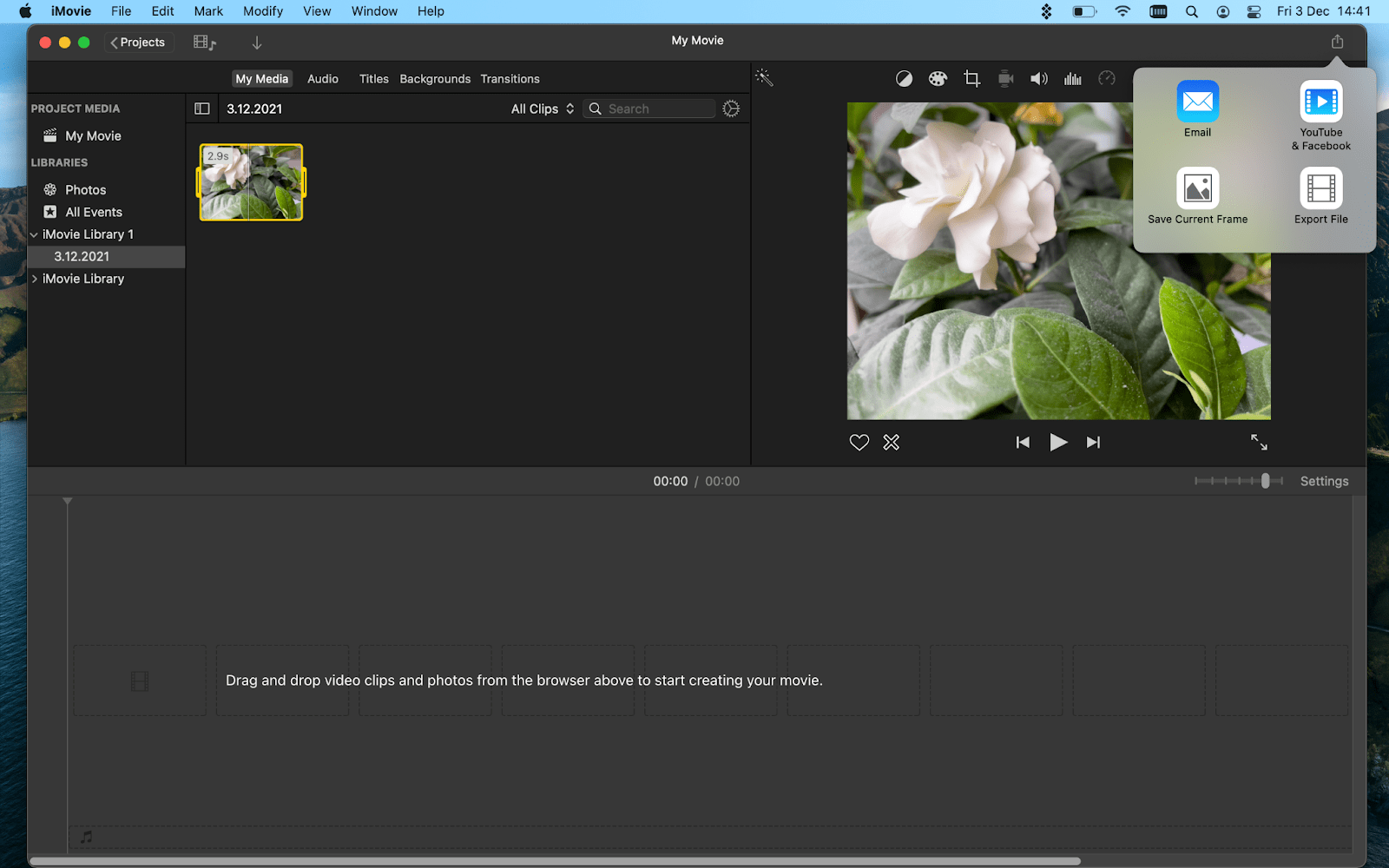 But, as it turns out, when you export your MOV using this Export File functionality in iMovie, the resulting file is actually an MP4 one. (And yes, we've tried this with QuickTime and the result was a MOV file).
All you have to do for the conversion of your MOV to MP4 with the help of iMovie is:
import your video to iMovie
click the Share icon at the top right of your app window
click Export File

select your desired video settings and exported file location (or keep the default ones)
begin conversion
Note that by iMovie default your converted MP4 likely won't be saved in the same folder, so make sure you are okay with the location where your converted file will be saved to, before you begin the conversion.
Convert MOV files to MP4 format online
If you are converting a small file and don't mind uploading it to an external server, an online converter might be the best solution for your needs.
We've tried converting our couple of seconds long video file using online converter Convertio.
All we had to do was drag and drop the video onto the converter page on convertio.co, select the format we want to convert our MOV to (which was MP4, of course), and click the red Convert button.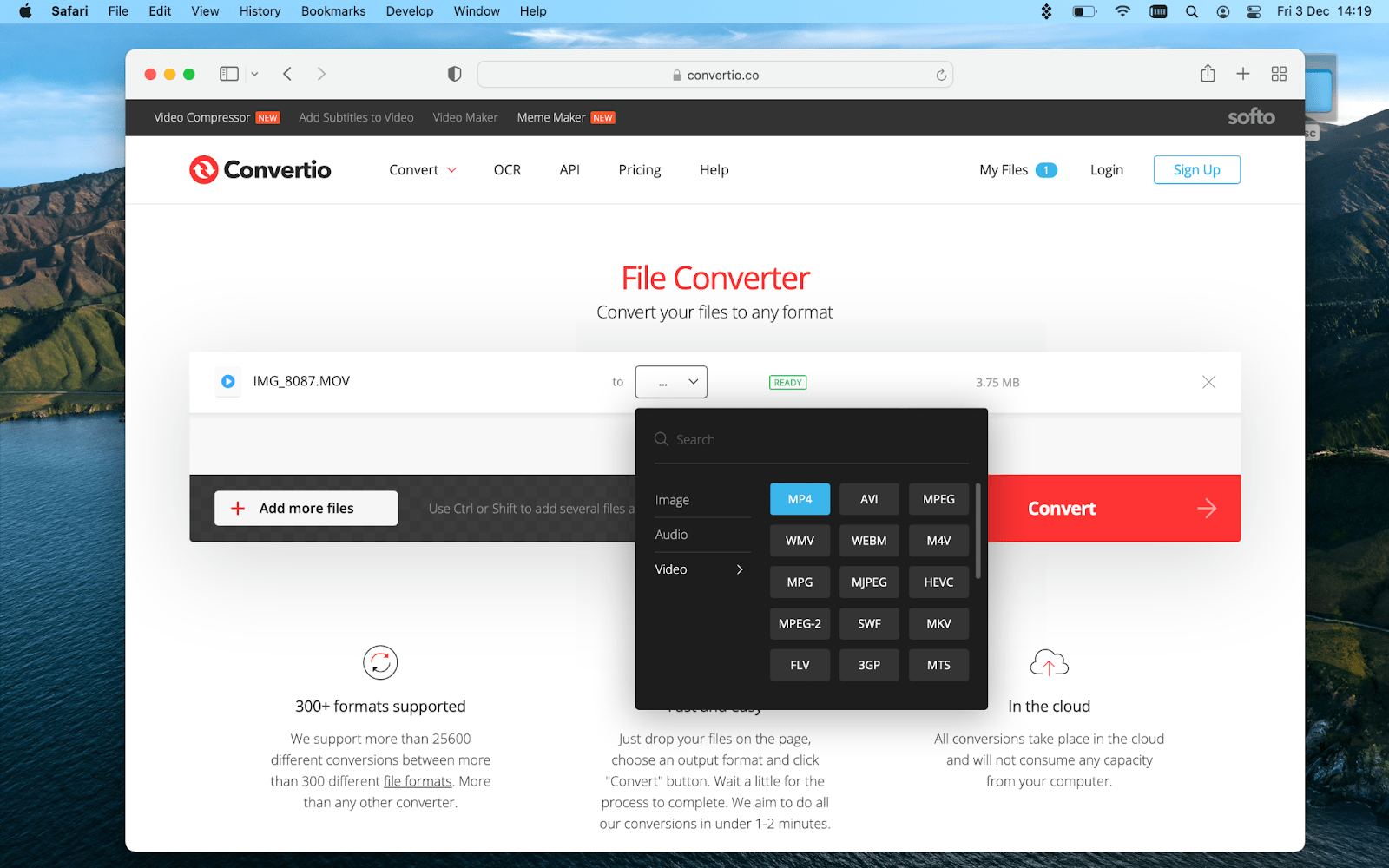 Our video got quickly uploaded to Convertio and then converted to MP4 with the blue Download button allowing us to save it on our Mac.
Just like converter apps, this online engine also allows you to adjust the settings for your conversion.
Alternatively, you can use another online MOV to MP4 converter cloudconvert.com. The tool is very similar to Convertio and allows you to convert your video to several formats as well as adjust video settings as needed.
Note that with free online converters you might run into limits in the number of files you can convert per day and/or their max size.
The process can also take longer than converting on your device since you have to upload and redownload your converted file in addition to the actual conversion process. The differences are negligible for small files but with video, files get large fast, so you want to keep that in mind.
Parting thoughts
As you can see, converting your MOV files to MP4 is an easy task and can be done with a number of readily available tools. You can use iMovie file export, convert online, or employ a universal file conversion tool like Permute.
With online conversion, you get the upside of solving your file format problem quickly and without any additional tools, but you lose time on uploading and then redownloading the converted video. You also are uploading your media outside your device, which may not always be your preferred way.
With tools like Permute, you can convert video, audio, and images to multiple formats and do so in batches. The files stay on your device and conversion is pretty quick (at least for the smaller video file sizes that we've experimented with). To play your media, you can use a universal player Elmedia Player that allows you to also adjust your video to your preferences, e.g. its brightness, saturation, playback speed, and even equalize the sound.
You can find the apps we've mentioned in this post on Setapp, a suite of tools for productivity, lifestyle, and better efficiency. If you are not yet subscribed, you can explore hundreds of handy tools on Setapp with a free 7-day trial.